City Of Brampton's Speed Camera Locations
The City of Brampton has installed and revealed the locations of 13 more photo radar cameras, bringing the total number of cameras now monitoring the city's streets to 43. 
The city says it plans to install a total of 50 Automated Speed Enforcement (ASE) cameras that will be moved around 200 community safety zones across the city each year.
During a February council meeting, city staff said the city is not giving out photo radar tickets for those caught going one or two kilometres per hour over the limit. However, the city did not reveal what the speed threshold is.
The map below shows the approximate locations of the cameras in each of the city's 10 electoral wards. Scroll down further to see a more detailed map and the specific locations of the cameras in each ward. New camera locations are marked as such in the location lists below each detailed ward map.
Graphical maps included in this article are based on data included on an interactive map on the city's website, which also shows community safety zones where ASE technology may be deployed in the future.
There is no detailed map for Ward 10 as only one camera has been installed in that ward to date — on the border of Ward 8. The location of that camera is shown and listed under the Wards 7 and 8 map below.
DETAILED MAPS FOR EACH WARD: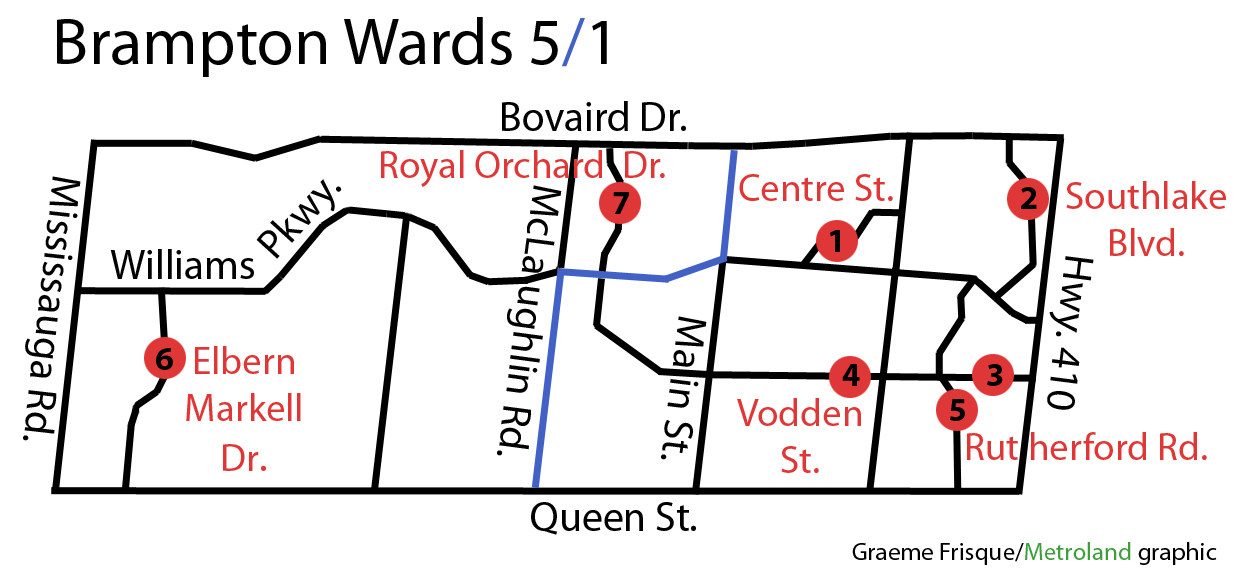 WARD 1:
1) Centre Street and Claypine Trail
2) Southlake Boulevard, between Palm Tree Road and Seahorse Avenue
3) Vodden Street, between Rutherford Road and Archdekin Drive
4) Vodden Street, between Kennedy Road and Cumberland Drive
5) Rutherford Road, between Madoc Drive and Reigate Avenue
WARD 5:
6) Elbern Markell Drive between Junetown Circle and Ingleborough Drive
7) Royal Orchard Drive and Beaverhall Road (New)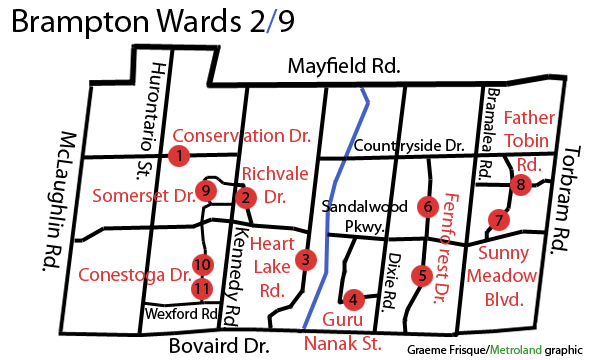 WARD 2:
1) Conservation Drive, between Dawnridge Trail and Braidwood Lake Road
2) Richvale Drive and Driftwood Crescent
3) Heart Lake Road, between Brussels Avenue and Copperfield Road
9) Somerset Drive, near Traverston Court (New)
10) Conestoga Drive, between Ruth Avenue and Fairlight Street (New)
11) Conestoga Drive, between Ebby Avenue and Wexford Road (New)
WARD 9:
4) Guru Nanak Street, between Rainstorm Road and Riverbank Road
5) Fernforest Drive, between Black Forest Drive and Blue Oak Avenue
6) Fernforest Drive, between Hartwell Gate and Dewside Drive
7) Sunny Meadow Boulevard, between Blackcherry Lane and Chapparal Drive
8) Father Tobin Road, between Pape Drive and Sunny Meadow Boulevard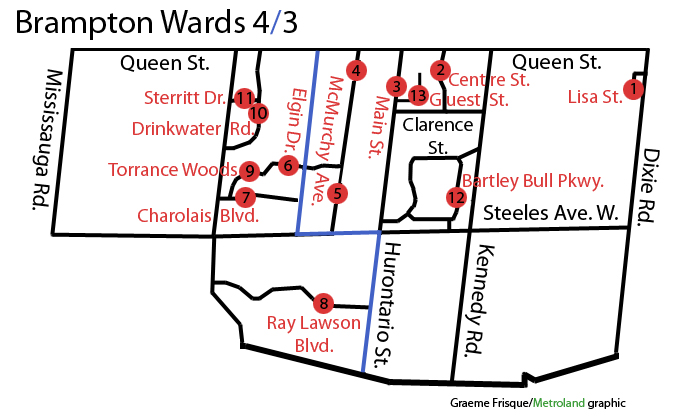 WARD 3:
1) Lisa Street, between Dixie Road and Clark Boulevard
2) Centre Street, between John Street and Ardglen Drive
3) Main Street, just north of Frederick Street
4) McMurchy Avenue South, between McHardy Place and Royce Avenue
5) McMurchy Avenue South, between Driscoll Drive and Charolais Boulevard
12) Bartley Bull Parkway, between Rambler Drive and Orchard Drive (New)
13) Guest Street, east of Beatty Avenue (New)
DON'T MISS BIG NEWS WHEN IT BREAKS
Get up-to-the-minute breaking news alerts in your inbox from the Star.
WARD 4:
6) Elgin Drive, between McLaughlin Road South and Gervais Drive
7) Charolais Boulevard, between Duggan Drive and Moffatt Avenue
8) Ray Lawson Boulevard, between Cherrytree Drive and Timberlane Drive
9) Torrance Woods, between Cannon Crescent and Elgin Drive (New)
10) Drinkwater Road and White Tail Crescent (New)
11) Sterritt Drive, west of Drinkwater Road (New)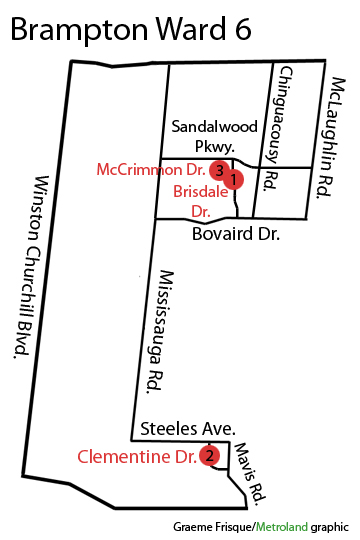 WARD 6:
1) Brisdale Drive, between Wetmeadow Drive and Fairhill Avenue
2) Clementine Drive, between Steeles Avenue and Mavis Road
3) McCrimmon Drive, between Ferncroft Place and Trudelle Crescent (New)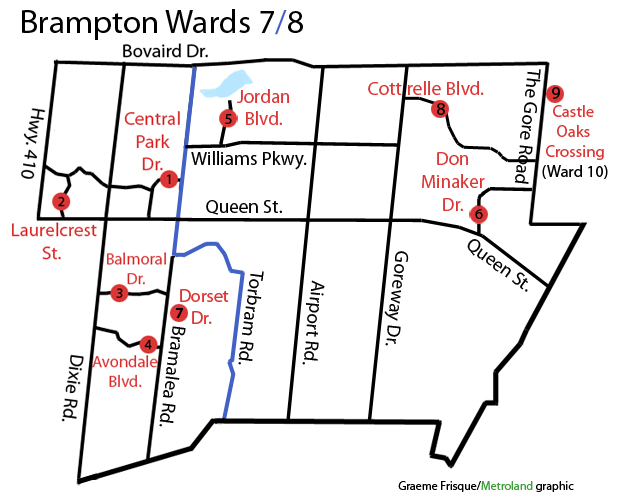 WARD 7:
1) Central Park Drive and Hilldale Crescent
2) Laurelcrest Street, between Longbourne Crescent and Lamont Place
3) Balmoral Drive, between Brookland Drive and Braemar Drive
4) Avondale Boulevard, between Autumn Boulevard and Aloma Crescent
7) Dorset Drive, between Doncaster Drive and Dorchester Drive (New)
WARD 8:
5) Jordan Boulevard, between Junewood Crescent and Joshua Court
6) Don Minaker Drive, between Imperial Lakes Drive and Riverstone Drive
8) Cottrelle Boulevard, between Valleycreek Drive and Redwillow Road (New)
WARD 10:
9) Castle Oaks Crossing, between The Gore Road and Mission Ridge Trail (New)